So, for those who have never heard of NaNoWriMo, it is a challenge to write a novel in one month. The National Novel Writing Month is held each year in November with the goal to write 50000 words. With 450 to 700 words per page (depending on style and white lines), that means writing 71 to 110 in a single month. For me, the required 1667 words per day take about two hours to write.
I have been participating in this competition since 2009, getting as close to 10000 words at most. This year, I made it.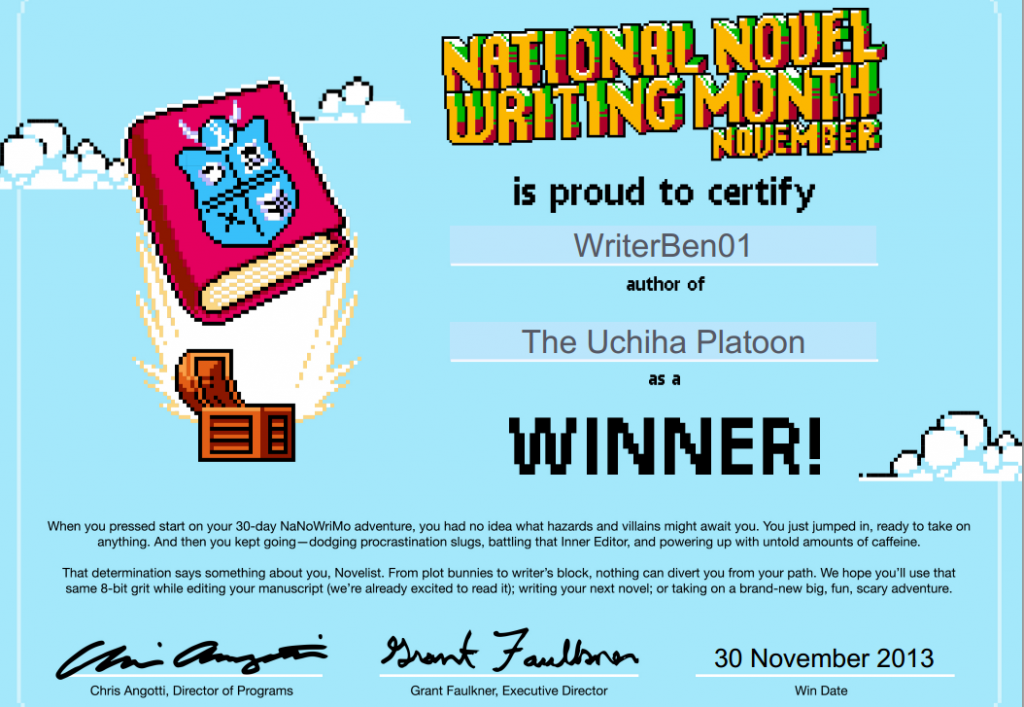 It has been one trying month, but it has also been easier than previous years. I wrote a fanfic of Naruto. This gave me a large cast of characters and settings, as well as a plot to loosely follow. Not to mention that I am a huge Naruto fan so it was very easy to get me enthusiastic about writing my story and thinking about it.
Still, the last month I've barely had any free time to do anything other than write. In the train and bus I wrote on my iPod. On trainstations where it was too cold to write, I was thinking about my plot. When I got home I turned on my laptop and started writing. When I watched television or played a game, it made me feel guilty that I had not written as much as I had.
On Friday evening I got home just before midnight. Boyfrien01 was amazing and provided me everything I needed. He made sure there was a red bull in my hand whenever I needed, snacks within reach, and no distractions to keep me from writing. We went on until 5 am. He had dosed off on the couch and I woke him up so he could see me push the 50 thousand words. It was exhausting and there were times when I thought I would not make it.
But yeah, it has been worth it.
I have almost a novel now. It actually is not finished and I am not at all satisfied with the quality most of the time. But the groundwork is there. Finishing it does not seem like the impossible task that it seemed a month ago. Especially now that I know that when I really want to, I can force myself to write in bulk.
My fanfic is classified as a Peggy Sue fanfic. It means that I have one of the main characters go back in time to the start of the story, having the skills and strength they have at the end of it. I had read a few of them recently and wanted to try my hand at it.
Naruto is the story of a boy called Naruto who gets a demon trapped inside of him, lives in a village of ninja, and wants nothing more than to become the leader of the village so that everyone will acknowledge him. He becomes a ninja in the first episode and gets placed in a team with a boy called Sasuke and a girl called Sakura. Sasuke's family got killed while he was little and all he cares about is getting revenge. Sakura is a girl, whom we get told is kind of good at some things, possibly.
In my story, thirty years after the bad guy gets defeated, all has gone to hell. In an apocalypse-like world, both Naruto and Sakura have died and Sasuke is the only one who remains. Sasuke uses this forbidden jutsu (read: magic) to go back in time. He makes sure to become friends with his team mates much more quickly and makes them train a whole lot harder.
For those interested. I have a small excerpt under the fold.
(
Collapse
)